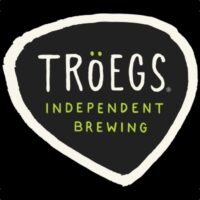 Thursday, October 5th
From 5:30 pm to 8:30 pm, samples, tastings, giveaways, and prizes!
Join us for a Tap Takeover by Tröegs Brewing Co., featuring:
On Tap
Master of Pumpkins Ale
IT TAKES A LONG TIME TO PLANT, raise, pick, slice, clean and roast 3,000 lbs. of local PA pumpkins. But come fall, Master of Pumpkins takes shape and suits the season just so. Subtly spiced with cinnamon, clove, ginger and nutmeg, this is a pumpkin beer that's worth the wait.
7.5% ABV
Oktoberfest Lager
TRÖEGS OKTOBERFEST IS HERE! Our take on this timeless German style starts with a traditional brewing technique called decoction, creating a bright, dry maltiness. A kettle addition of Hallertau Tradition hops adds subtle floral and herbal undercurrents to this toasty sweet Fest Lager. Eins, zwei, g'suffa!
6.1% ABV